Parul Agrawal
https://www.linkedin.com/in/parul-agrawal-7ba2358
Parul Agrawal is an International Bestselling Author, Huffington Post Blogger, Bestselling Book Coach, host of soon to be launched Mama Podcast and Executive Publishing Director at Transformational CEO LLC. She is India's leading online female entrepreneur with a mission to educate families and professionals about simple, effective ways to live healthier, happier and successful lives. She has the technical brain of an engineer, the (w)holistic mindset of a holistic health coach and the patience of a mom. She uses these varied skills to help individuals achieve optimal physical, spiritual, emotional and financial well-being.
Denisa Gokovi

https://al.linkedin.com/in/h-e-amb-denisa-gokovi-66a01092
https://www.facebook.com/denisa.gokov
Denisa is an Ambassador of Peace & Art. Pianist, Singer, Songwriter, Composer, Actress, Philosophical writer and Model from Albania.  She has appeared and is known internationally for her work on the movies How to Sit in Church (2013) and Robot/Girlfriend (2016).
Kate Gardner
http://laurafrancis.com.au/episode5-kategardnerinterview/
Kate Gardner is a #1 International Best-Selling Author, Podcast Host, International Mind-Set Coach and creator of The Missing Piece book series
As a Success Coach, Kate informs, motivates and empowers online business owners and helps provide them with the business tools and skills they need to succeed in their online businesses. Kate helps raise her client's self-esteem and self-confidence through providing tools to change their mind-sets so they are prepared for the responsibility that success brings to them. Kate has had the honour and pleasure of working and publishing the books of TV personalities and co-authoring and publishing books for award winning Hollywood film directors.
Kate is the creator and publisher of the International Best Selling Book Series "The Missing Piece" which provides a platform for authors, and online business owners to grow their network; with every intention of making them a best-selling author. Kate's ultimate goal is to help you build a successful international platform and succeed in turning your followers into raving fans that constantly buy from you.
David Adrian Thomas, Esq., M.C.I.H.T
https://www.facebook.com/countysurveyorssocietyinternationallimited/
David Adrian Thomas was diagnosed with Asperger's at 49. He has written a best-selling trilogy and compendium of how he made sense of that world and place in it. Additionally he is a regular contributor to Huffington Post and has been a leader in bringing attention and better public understanding to the plight and challenges faced by people living with Autism and Asperger's Syndrome.
"I'm pleased to announce that the County Surveyors Society International Limited of the UK is entering into a joint venture with Energime University of the USA to provide a UN Academic Impact supported and validated educational haven for people having the autism spectrum disorder, Asperger's Syndrome, to study economically, environmentally and ecologically sustainable development and further the arts and sciences appurtenant thereto in the interest of saving both the planet and its populations of animal, vegetable and mineral forms for all generations of them to share."
Betsy Chasse
Betsy Chasse is an internationally known author, filmmaker and speaker. She is the Co-Creator (Writer, Director, Producer) of the film "What The Bleep Do We Know?!" and the author of 5 books including Tipping Sacred Cows (January 2014 Atria/Simon & Schuster), Metanoia – A Transformative Change of Heart and the companion book to BLEEP, Discovering The endless Possibilities for Altering Your Everyday Reality, It Came Out Of My Vagina, Now What?! and a contributor to The Missing Pieces Series The Law of Attraction. She is currently in production on a new feature documentary LEAP, which explores the world of Life, Relationship, Business and Executive Coaching.
David Chalk
http://keynotespeakerscanada.ca/speaker/david-chalk
David Chalk has been a leading expert in the technology industry for over 30 years.
A pioneer, David developed the retail blueprint for super stores when he opened Doppler Computer Superstores in 1980.   An award winning innovator, David developed the first retail POS and Supply Chain Management solution that Ernst & Young certified and assisted in selling to other industries.
For most of the 80s, David was the face of Technology in Canada hosting the Dave Chalk computer show. His approach has always been to empower people with the technical information they need to become more productive and to enhance their lives.  He likes to bridge the gap between technology and practicality.
By the mid-90s, David turned around a $150 million US Retailer (Ballard Computer) from Chapter 11 and started to appear on speaking tours for Microsoft when Bill Gates was not available.
Linda Radke
www.fivestarpublications.com/about.php
Linda F. Radke, president and founder of Five Star Publications, Inc., has been ahead of her game since 1985, producing and marketing award-winning fiction and nonfiction books for adults and children worldwide. Radke has established Five Star Publications as an industry leader in creativity, innovation, and customer service.
Along with providing book production and promotion services, publishing and marketing workshops and author consulting sessions, Radke also leads the Five Star team in supporting individuals and organizations with book website design, logo design, and event coordination. Customer service comes first at Five Star Publications and Radke is committed to helping both established and aspiring authors of all ages reach new heights.
Robina Tower
https://www.linkedin.com/in/robina-tower-375a4881
Robina has worked for 21 years with the Discovery Channel under a pseudonym, often to very dangerous places, creating & writing stories for television. Now semi-retired, and freelancing she lives in sunny San Diego, California. Still traveling the world looking for that elusive, incredible story that every writer wants to publish. She is in the process of writing two books one of which is a collection of short stories, poignant, humorous, and exciting moments of my world travels and experiences.
Meeting so many wonderful and warm, different people and yet realizing, that under the skin we are all the same.
John Hood
John Hood is an Accomplished Horticultural Ecopreneur with a passion for Sustainability, teaching, and writing, collaborating on the book Sustainable Food for the Globe, with Norma Brunson. He is also an Accomplished International Artist, having had the Vatican on behalf of His Holiness Pope Francis, accepted
The Gaze of Jesus in 2015. Now he has received several Awards for his Humanitarian Work , using his work " The Gaze of Jesus" to help feed the world through the UN WFP.
To view his artwork and soon to be launched www.thegazeofjesus.org
Contact: thegardeningguru2000@gmail.com
Phyl T. Macomber, M.S. ATP
Phyl T. Macomber, M.S. ATP
Since completing a fellowship at Johns Hopkins Hospital's Kennedy-Krieger Institute in 1988, Phyl Macomber has become an award-winning national education speaker, author, inclusion specialist, and curriculum consultant. As President of Make A Difference, Inc., Phyl has consulted with and trained thousands of teaching staff and is a passionate catalyst for systems change in education.
Phyl was featured in the Common Threads Trilogy book series in 2015 as one of the top 100 empowering women from around the globe and has been a guest on several radio shows to discuss simplifying instruction for students of all abilities. In 2016, Phyl was appointed the first ambassador of the educational affairs organization, I AM L.E.E. (I AM Living Education Everyday), whose goal is to expand conversations on educational issues and challenges impacting families and communities.
Phyl has created a 4-step simple system for how to teach anything to anyone – in a way that students of any ability learn faster and deeper – and, teachers succeed in reaching and teaching ALL students while meeting the standards. Her research-based teaching strategies have been published in several articles featured in clinical publications in education since 2009 and are being successfully used across North America, and in parts of Australia, South Africa, Saudi Arabia, and Italy. This systems-based instruction, called T.H.E. P.A.C.T., is outlined in Phyl's first book, The Power of T.H.E. P.A.C.T., and is being referred to as "the simple, evidence-based solution for differentiated instruction and meaningful inclusion."
Phyl Macomber, M.S. ATP
Author, Educational Speaker, & Curriculum/Technology Consultant
President of Make A Difference, Inc. and Practical Assistive Technology Solutions, Inc.
"I want to make a difference with people who want to make a difference, doing something that makes a difference."  – John Maxwell
Chaminda Serasinha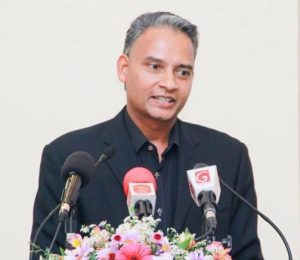 Chaminda Serasinha is the Author/Creator of the Direct Carbon Negative Product Concept and the
advocate of Climate Friendly Consumerism. He is an Inventor, Corporate Executive and an Educator and
is passionate about inspiring sustainable innovation. Chaminda also serves as a Director/Consultant for
Shigadry Group of Companies, Japan & Sri Lanka and was also instrumental in deploying the first ISO
14064 GHG assessment in Asia. He is a Member of the Institute of Engineering and Technology, UK (IET)
and holds an MBA in operations management.
Chaminda's main passion is to lift the veil of Ignorance on sustainability so that all may see that
sustainability is the most profitable way forward. As an Educator and a Solutions Architect he professes
that "between profitability and sustainability lies only ignorance" and saving and loving the planet can
truly be a profitable choice.